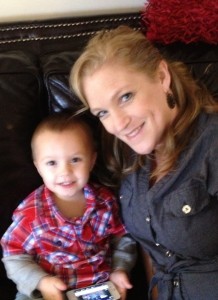 One day while driving past Rhythm and Rhymes, I glanced over and saw the cheery sign.  I continued on my errand into town and pulled over to call my husband.  I expressed how much I wanted to make a change in my career and go back to what I love, children and music.  He, as always,  was very supportive and encouraged me to follow my heart.  After hanging up the phone, I prayed for an answer to my dilemma.
Upon my return from this errand and prayerful call, I again passed the cheery Rhythm and Rhymes sign,  however this time when I glanced up, there was a new 'NOW HIRING' sign that had not been there earlier!  I stopped, called the number on the sign immediately and went in.  That is how I met Phyllis, got to know her vision and found the answer to my prayers.  There is no question that my place here at Rhythm and Rhymes came about by divine intervention.
Still today, after 10 years, I find myself each morning still walking through the door eager to see the smiling faces of the little ones in our care.  I know that God led me here and I know that I am here to love and nurture these little angels.  I also know that they do just as much for me, if not more, than I do for them.
I am lucky enough to be married to the love of my life and have been for more than 20 years now.  We have four daughters, all grown and gone from the nest. Our girls have blessed us with four grandchildren who are absolutely PERFECT. We love to hike and camp in our spare time.